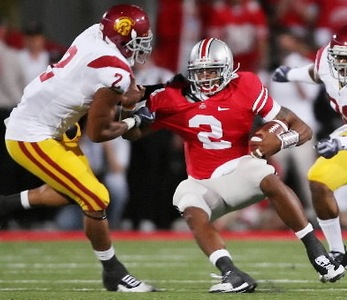 Another Top 10 team, the same result. A loss. At least it wasn't a blowout like last year. There was a lot to be proud of in this game, though the Trojans scored 18, the defense really is accountable for 11 of them, a TD, 2-pt conversion, and a field goal. The first TD was totally on the offense with the for all intents and purposes pick-six. Without that, there's a win.

Special teams were AWESOME in this game. Great punting, great returns, great return coverage, and great placekicking. They showed up.

The offense was not consistent in the least. I think the hits Pryor took in the first quarter might have hurt him physically, but certainly hurt his confidence and judgment. The lack of a bell cow back like Beanie Wells also showed up. Nothing against Boom, he runs hard and provides maximum effort – which is all you can ask – but he's not going to get those tough yards between the tackles with an opponent like USC.

The O-line was pretty good for all the grief it takes over time. I thought play calling was pretty sound in the first quarter as well. But somehow, we got away from the misdirection and started running Dave again. And again. And again. On 1 yard conversions, I'd think someone might say "Hey, we've got a 6'6″, 230 lb quarterback. Why don't we simply sneak it behind 500 lb benchpress Boren to convert?"

But no, Dave would be the best answer. Pull the guard, have the fullback whiff on his block and the back gets chopped down at or behind the line of scrimmage.

All of the losses hurt when it's the team you root for – but this one somehow is worse. This one was winnable and slipped away, much like the Texas game last year. At some point, the offense is going to have to join the same team and perform consistently and score touchdowns, not field goals. Eight points were left on the board tonight. That would have amounted to a win too. Woulda, coulda, shoulda. If my aunt had balls she'd be my uncle as they say. This was a needless loss.

Now, as for the rest of the season, we'll see what happens next week on the road in Cleveland vs. Toledo which put up 54 points this week. If we come out with fire and passion, this could be an 11-1 season. If we're still funky, Toledo could win. Seriously. That would suck.

Tweet