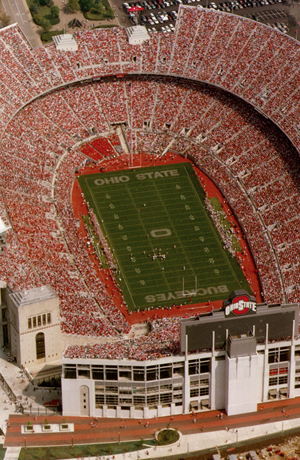 The University of Southern California (USC) will play Ohio State in a night game at the 'Shoe tomorrow evening. If you read anything about this game, you'll know the Buckeyes have absolutely ZERO chance of winning. They ought not even show up. After all, they lost in LA last year 35-3 (ouch!) and have lost their last 4 big, non-conference games.

I'm a Buckeye fan and thus am not objective in this, but I like this game. I like the setup. I like that no one believes they will win. I like that their Freshman starting quarterback is talking smack. I like that they are -7 point 'dogs at home. I like that nothing but mild respect is coming from Ohio State about this game. I like that the game last week against Navy was a tougher challenge than anticipated. I like that USC beat the snot out of a horrible San Jose State team building their confidence.

Yep, I betting I'm going to like the final score which will look something like this: 23-12 Buckeyes. And if I'm wrong, I'm wrong. But I believe the perfect storm is brewing and that the big game beatdown predicted won't happen, at least in the way the pundits are predicting. GO BUCKS!

Tweet