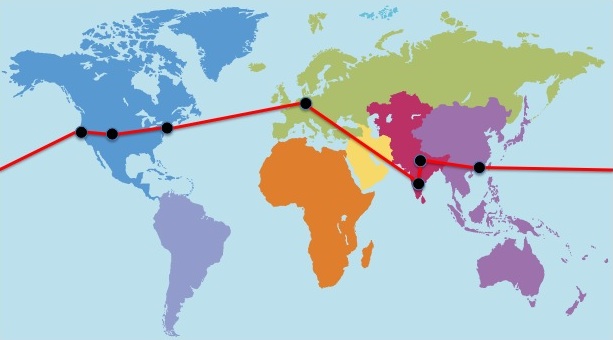 My "around the world in eight days trip" finished yesterday will my arrival at SFO. For those of you who are good with math, you might notice that the trip spanned nine days, but from an elapsed time perspective it was just barely eight days in hours. After spending 30 hours in Delhi, India, I was on my way to Hong Kong for a 6 hour stopover. The flight was mostly empty (Air India) and was a "red eye" leaving Delhi at 11pm and arriving Hong Kong at 7am.
A word about Delhi airport: For international flights you'll want to arrive between 2 and 3 hours before your departure. If you arrive with more than 3 hours to departure time, you are not allowed to check-in and then you can either wait outside in the "sultry" weather with masses of mosquitos or pay 30 rupees to wait in a lounge that resembles the Port Authority bus station. It's quite a quandry. I paid the 30 rupees to get out of the way of mosquitos.
Once checked in, there was some time to kill at the Delhi airport which, relative to the new Bangalore airport, is both small and dated. In fact, terminal-wise, it seems to be about the size of the Dayton Airport or smaller. This is the major airport serving a city of 17 million people and the capital of the world's largest democracy. I was a bit surprised by this never having transited this airport before.
Hong Kong is the exact opposite, thoroughly modern, huge, with every modern convenience. The Red Carpet Club there is among the best I've experienced in any part of the world. I've always enjoyed Hong Kong, even the old airport. But the new one made it very easy to pass the time while waiting for the second red eye of this segment from Hong Kong to San Francisco. I spent 15k frequent flyer miles to upgrade on this 13 hour flight and it was worth every mile.
The only complaint I had with the flight was the presence of small children in business class. Two of them screamed for 13 hours straight and managed a feat rarely seen for me – they were able to defeat my Bose Quiet Comfort noise cancellation headphones. I was stunned. However, dipping into my travel provisions I found a pair of ear plugs and those coupled with noise cancellation did the trick. Suffice to say, the parents were frazzled and there were a bunch of passengers without ear protection who were highly dissatisfied.
Home, sweet home we landed at 9:43 am on Aug 2. The first bag appeared at 10:30 and my bag didn't appear until 11:15. During this waiting period, United repeatedly apologized for the delay citing lack of ground crew to handle the load of incoming flights. Now, I'm not an airline expert, but the last time I checked for international flights in particular, these are multi-hour flights providing huge warning time about when they will actually arrive. Isn't it job #1 to be able to meet these planes and service them while on the ground? Baggage claim at SFO is the worst of any airport I've ever flown into – it's consistently over 1 hour to reconnect with you bag if it arrives at all… Contrast it to Delhi where the bags were available in 15 minutes after deplaning.
It's now 3am Aug 3 and I'm having my usual adjustment back to PDT. Time to signoff and think about sleeping again. It's very nice to be home!
Tweet