U.S.S. Potomac (Roosevelt's former yacht)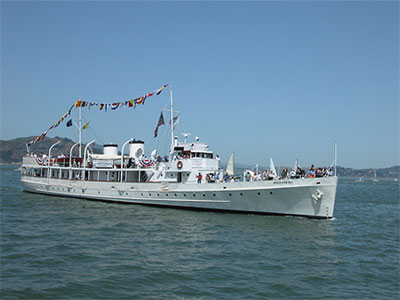 It's so easy to take the place you live for granted and today, I'd like to replay a great day my daughter and I had in and around San Francisco. Someone wanted to do a treasure hunt today, and I wanted to see some of the aerial escapades available at Fleet Week. So, I put together a number of clues that sent us from Montara into San Francisco and beyond.

At each point along the way my daughter had to keep an eye out for a word that started with a particular letter and when she found it that would account for treasure. If we found enough treasure, there would be a sweet treat at the end of our quest. We started off looking for a train that started with the letter "B" – sure enough, she suggested BART which we caught in Daly City. The next clue was to hit the station that started with an "E." After looking at the system map with me for a bit, she came up with Embarcadero. Bingo.

Next stop was a building that started with the letter "F" – you guessed it (and so did she,) the recently renovated Ferry Building where we had a delicious lunch at the Golden Gate Meat Company (she loves BBQ pork.) We stepped out of the Ferry Building looking for a clue that floated and started with the letter "S" and after some searching found the Sonoma, a Golden Gate Ferry that would take us to see our next clue (also an "S") enroute to our next clue destination (starts with an "L".)

We got on the Sonoma and started cruising north along the SF waterfront when we saw our next clue in the air, the Snowbirds, a precision flying team from Canada. They gave a great show and our view from the open top of the ferry was spectacular as we moved north past Fisherman's Wharf, Alcatraz, and Angel Island. My daughter didn't get that one by name, but she did say the answer had to be the airplanes (she was right.)

We then worked on what our destination would be, the place that started with an "L" and she didn't get it until the horn of the ferry horn tooted and the announcement from the crew we were landing in Larkspur. Our next clue started with the letter "B" and we simply got off the ferry, went around the side, and got right back on to return to San Francisco. As on the way there, we had a great view of the airshow and we saw an airplane with two wings, a bi-plane (our B clue which took a little hint to get.) Our final clue and the clue that represented the treasure started with a letter "C" – we looked around the ferry to find it and I'm happy to report that she did, at the snack bar, a giant chocolate chip cookie!

We didn't hang around to see the Blue Angels, she was tired and wanted to head home. But we did see some great aerial displays, some great old ships (like the liberty ship S.S. Jerimiah O'Brien and the U.S.S. Potomac, Franklin D Roosevelt's former yacht, steaming around,) several Navy ships and Coast Guard cutters, and the Golden Bear, a training vessel of the California Maritime Academy.

My daughter had a great time and relayed much of the detail to her mother upon our return. I had a good time too and have to say, I really enjoy this area. There's so much to offer and enjoy. We're really lucky to be able to have these experiences.

Tweet