Earlier this month, MftC led the pack calling for Hillary Clinton to concede the nomination to Obama as it is no longer possible for her to win the nomination. What she can do, is help the Republicans find the chinks in Obama's armor to attack in the general election and that is reason enough for her to concede, if she truly cares about getting the country back on the right track. It's been my view for some time that Clinton's naked ambition for the Whitehouse is driven by a personal agenda for power almost exclusively and that she'll do anything required to win. That's not to say Obama is pure of heart, but his motives appear to be a least a bit more altruistic and geared toward a better future than a personal power play.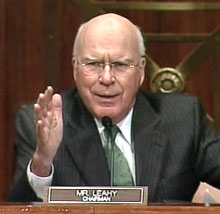 Last week, Vermont Senator Patrick Leahy called for Clinton to concede. He's right, now is the time Hillary for you to step aside if you care about change. You can have a leading and impactful role in the next Administration if only your ego will allow that. In fact, with your experience and education, you would make a fine Attorney General. Consider that as a way you could serve your country and utilize your knowledge, skills, and experience. But don't drag the entire Democratic ticket into the mud in a fight that is unwinnable.

Concede, now. It's the honorable and right thing to do. Check with John Edwards, that's what he did and it showed great character. I want to believe you have it in you to do the right thing, but I'm not optimistic. Prove me wrong, please.
Tweet