Do you think, over the next 10 years, that US electricity consumption will increase or decrease?

An interesting question, there are constant conservation programs and there is ever improving technology (like Sun's Ultra T1 processor,) but do you think that's enough to offset any increase in demand?

Sometimes a historical look can be illuminating when attempting to answer these sorts of questions. The chart below shows in Petawatt hours (a petawatt is 1,000,000,000,000,000 watts) how electricity production has grown since 1992 in the US. For our international readers, I apologize, I'm not taking a global position on this, only a US-centric position. Well, frankly, because I live here and it's big enough to be undigestable with the US alone. Notice that there is an aggregate increase of nearly a petawatt hour in the amount of electricity consumed over the past 13 years.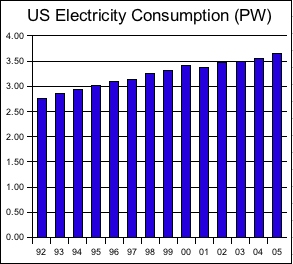 Data based on Electric Power Monthly Report

A percentage view of electricity consumption over time shows the growth is assuredly not linear. From 1992 to 2005 the aggregate growth in electricity consumption is 32.4%. There does seem to be a correlation between electricity consumption and the overall health of the economy. Note the relatively high growth rate in 1999 (Dotcom bubble) and the negative growth rate in 2001 (post bubble, 9/11) – both of these years vary considerably from the average annual growth rate of 2.2%. It is also interesting to note that the growth rate in 2005 is 3.1%, the fourth highest percentage in the measurement period. Which begs the question, are we in the midst of another bubble?



Data based on Electric Power Monthly Report

Returning to the questions above, will demand for electricity increase or decrease and what, if any impact with conservation and technology have on the trend? I believe we'll continue to see an increase in demand. Even a fraction of a % of growth in demand spurs the need for more energy generation. And that's interesting.

Meatspace coordinates: N37.324 W122.309
Ohio State's 2006 record: 5-0 Next up: Bowling Green 10/7
Tune: Blues Power (Live) by Albert King
Technorati Tags: Electricity | Consumption | Energy | Mike Harding Blog
Tweet