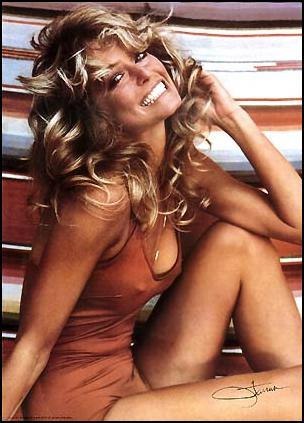 Seems like it's not a good time to be a celebrity, they're dying left and right. With all the hoo-ha going on around this "Michael Jackson was the best performer ever!" NOT! I thought I'd weigh in with the one passing that actually had any connection for me, that was Farrah Fawcett. Not that I knew her, I didn't. But I sure did spend time looking at her poster!

No claims of best actress ever, no claims of most attractive woman, no claims of best human being, none of that is necessary. But for a heterosexual male of my age raised in the US, Farrah was for many, the first big celebrity crush. Looking back on it now, the 1970's style is dated (she certainly inspired a whole generation of females to have "feathered" hair in the following years.) I remember watching Charlie's Angels just to get a glimpse of Farrah.

While I'm sad at her passing, I can't help but wonder if it provided some relief given her protracted illness and treatments. All I can say thanks for the memories Farrah.

Tweet