MSU's RB, Javon Ringer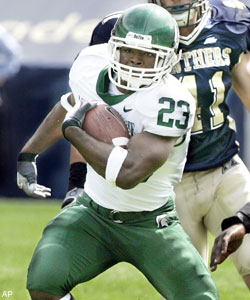 It's Wednesday again, that must mean it's time for the weekly game preview, this time between the Michigan State Spartans and the Ohio State Buckeyes at Ohio Stadium, 12:30 PT on Saturday, October 20th. As usual, Bucknuts has a good game data article available for this game.

The Spartans and Buckeyes have a long history of competitive play with MSU ruining OSU's chances to play for the national championship in 1998, attempting to derail their hopes in 2006, and coming for the rubber game this weekend. What's different? The attitude and the coaching staff. Former Ohio State defensive coordinator Mark Dantonio is now the head coach at MSU (notice what's happening with his former University of Cincinnati team? It's not an accident.) If this game were played two years from now, I would be really, really worried. But the reality is, these players are still learning Dantonio's system and still seem to be affected by incomprehensible lapses in concentration and focus that defined the John L. Smith era.

Michigan State is a powerful offensive team, the average 37 points, 243 yards rushing and 224 yards passing per game. They have a big, strong offensive line and skilled ball handlers in RBs Javon Ringer and Jehuu Caulcrick. QB Brian Hoyer is efficient and the receivers and tightends are above average. After a tough loss to Wisconsin, 37-34 and a heart-breaking hangover loss to Northwestern in overtime, 48-41, the Spartans bounced back with a strong performance on the road thumping Indiana 52-27 to enter this contest with a respectable 5-2 record.

As you can see from these numbers, offense isn't the challenge with MSU, it's the defense. Which defense will show up? The one that surrendered 48 points to Northwestern? Or the one that held Pittsburgh to 13? Despite the Jeckyl and Hyde nature of this defense, it does sport one national star in defensive end Jonal Saint-Dic who has amassed 8 sacks and 11 tackles for loss on the season. Point totals surrendered thus far, 174 through 7 games, or nearly 25 points per game.

Ohio State conversely has averaged nearly 36 on offense and given up nearly 7 points per game on defense this season. If you split the difference between the teams averages you'd get a score of Ohio State 30, Michigan State 22. That's not an unbelievable score as MSU will get some rushing yards and will score some points. The wild card here is turnovers and penalties. I have to give OSU the edge in those phases of the game. If MSU manages to win the turnover battle and OSU has stupid penalties, either stopping their own or prolonging the Spartan's drives, it's going to be a close game. If the turnover game is even and we see a typical Tressel-field position game, Ohio State will win comfortably.

What's going to happen? We're going to see a physical slugfest between two similar sized teams. But in the end, superior talent, mental toughness, and execution will create a separation in the second half leading to a 34-16 Ohio State win. As usual, we'll check back on this after the game to see just how wrong this preview was. Enjoy the game and GO BUCKS!
Tweet