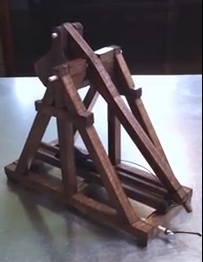 Sometimes when things get tough, you need to remind yourself of the joy in what you're doing. Things aren't going as smoothly as we'd like at Oddyssea, but it's going to be OK.

Now, I've been accused of being an overgrown kid many times and the great thing is, it's true. I can still find happiness in very simple things. For example, I invested a little time yesterday between serious jobs (satisfying contracts and doing shop related activities) to build a desktop trebuchet – one of the items we'll carry at Oddyssea.

If you click the image, you'll be able to see a video of the test firing of that model. The whole episode made me smile and remember why we're doing this – to have the freedom to share this sort of experience with others and have them enjoy it, learn from it, and take that spirit back home.

So, if you're in the market for a trebuchet (or onager, or catapult, or other kinetic model) come visit us when we open our doors later this summer. You'll have a blast. And we will too!

Tweet