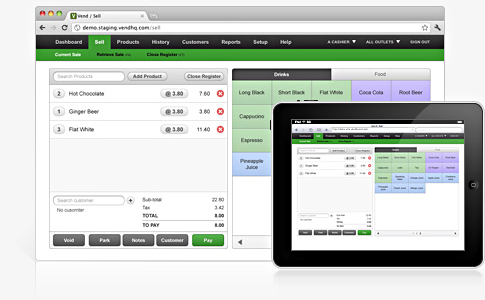 When running a business, any business, there are many choices to be made. One of the big choices is how to handle core activities like vendor management, inventory management, stock analysis, the selling process, billing, etc.

Another decision revolves around automation of these core activities. Now for many of you reading this, you're probably saying "what? why wouldn't you automate?" Many retail businesses seem to start manually and then selectively automate. Since I'm a techie, the temptation is to automate everything. That could be a bad decision because automation can sometimes cause more work than it saves unless it supports a certain scale of operations.

Things we know we want to automate are the selling process and inventory management. Ideally, a single software product would satisfy our needs (and make no mistake about it, there are hundreds of options to do just that at vastly different price points.) Our preferred solution needed to run across phones, tablets, and computers and run best on Apple. We wanted it to be cloud-based with the ability to take offline snapshots/backups. It needed to be easy enough to use that non-technical people could successfully sell products and manage inventory. Of course we needed to have confidence in the safety, security, and availability of our data in the cloud model. Note: we did briefly consider our own infrastructure, but the hassle and cost far outweigh the risks of the hosted model.

The hope we had was that Square would either develop or supplement their awesome payment application with inventory management. But alas, the inventory portion of Square is scaled toward a business with 10's of products rather than 100's and there appears to be no roadmap fill that gap. So we started a structured search to find the right solution for Oddyssea.

After messing about with many different options, we chose Vend as the Oddyssea store software. Initially Vend will be supplemented with Square for credit card processing but ultimately PayPal will supplant Square due to the tight integration with Vend.

One thing to note is that most of the candidates allowed for instant trial, this was extremely helpful in narrowing down the right choice. The first cut was "can I try this out?" If the answer was no, like it was for some of the different vendors, they were eliminated. Some of the vendors wanted to have people contact us and make it a high-touch sales activity. Not a good choice on their part. Of the software we could try, it turned out that most of these candidates simply did not work. Sad, but true.

Vend was easy to activate and use. It was moderately easy to import our inventory, vendors, and orders into the software, but not seamless. I had questions about the software over the holiday weekend and got an instantaneous, courteous, and high-content response from the Vend team. All of this BEFORE I decided to be a customer. To me, that interaction spoke volumes and reinforced that not only their software would do the job, but that they would value Oddyssea as a customer.

As we have more experience with the software, we'll share more. But as it stands, we're very happy to have Vend help to run our store.

Disclosure: No one from Vend solicited this content. I have no financial interest in Vend or their investors.

Tweet