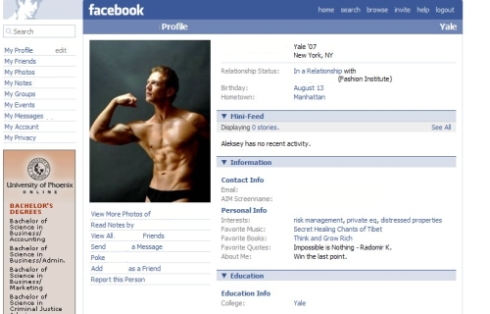 Prototypical Facebook Douchebag
Take this from a guy who still uses vi to write raw C code, Facebook is way over-hyped. Now, having read the salient points of the S-1 (this is the document filed with the Securities and Exchange Commission on intent for public stock offering) I can't deny that the numbers are fabulous.

Here's the thing: So were AOL's on the eve of its public offering. I'm talking pre-Time-Warner AOL, the company that reminded you of their existence each and every day when you went to the mail box where there was at least one disc with 10 hours of free AOL if only you installed their malware.

Since many of you have missed previous hype cycles, it's important to watch for patterns and trends across industries and companies. In the 1990's, AOL was a darling creating a proprietary and safe online experience, with a community of people closely connected and an ecosystem of partners making money hand over fist. AOL was the 3rd incarnation of this effect that started off with private bulletin-board-systems (BBS's) in generation one. Compuserve commercialized and scaled this as wave two. Prodigy (failed) and AOL (succeeded) represented the third wave. The major difference was that the experience was available to the larger, non-technical community and it did everything possible, even with the rise of the general internet, to keep users inside the AOL bounds. We see how that worked out, not very well.

Flash forward into the 2000's and we see a similar trend. Wave one consists of various niche community sites, all fragmented and frothy. Wave two has a flag bearer in the form of Friendster bringing peer-to-peer to friendships to the forefront. Wave three has two major players, MySpace (failed) and Facebook (succeeded).) Like AOL, Facebook has an ecosystem where partners are making money, for now. Like AOL, Facebook brought social networking to the non-technical masses. Like AOL, Facebook does everything in its power to trap users in their curated and proprietary Facebook experience. Like AOL, the signal to noise ratio approaches zero with prolonged exposure – the amount of douchebaggery increases exponentially with the number of active community members.

So yes, the numbers are stunning. Today. And perhaps for some short period of years into the future. My bet is that Facebook doesn't have a sustainable competitive advantage that will allow for this sort of financial performance over the long haul. I hope the FB team gets a great pay day, they've created a big, profitable monster.

But, I wouldn't be long in the stock anymore than I would participate in the Facebook community routinely. I believe a free, uncurated, non-commerically oriented alternative will emerge (G+ – maybe?) and will erode their base just as Facebook eroded MySpace and Friendster. And then we'll be along to the next wave. My bet on the next wave is micro-communities with extremely focused and committed membership in a large, horizontally scaling public infrastructure.

So no, I'm not drinking the Facebook cool-aid. Caveat Emptor.

Tweet