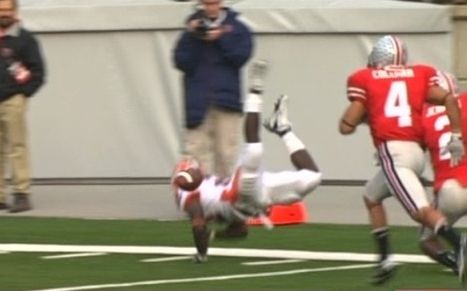 Photo Credit: Unknown
Remember this picture? If you follow Ohio State Football, you do. It's the blown call (one of many that afternoon) that ended with an OSU defeat at the hands of Illinois in the Horseshoe last month. Now, I'll be the first one to say that great teams overcome adversity and the Buckeyes had their chances. But, when the offense is having a bad day, the defense is having a bad day, AND the refs are conspiring against you, it's probably too much to overcome. And that proved to be the case that afternoon.
That being said,
a new story broken by Yahoo! Sports
indicates that the problems associated with this particular officiating crew (referee Steven Pamon in particular) didn't take much of a rocket scientist to uncover. The allegations include:
Pamon and his wife filed for bankruptcy in 2002 after the couple amassed $429,407 in liabilities, and two of the creditors were casinos.
He allegedly has gambled at casinos as far back as the 1980s, and a sister-in-law said gambling losses incurred by Pamon and Pamon's wife led to the couple filing for bankruptcy.
In 1997, he was charged with repeatedly beating three of his girlfriend's four sons with an electrical cord. He told authorities he beat the boys three times.
He allegedly was fired by the Chicago Police Department in 1996 after two female officers accused him of sexual harassment, according to published reports that cited law-enforcement officials as sources.
One of Pamon's former wives accused him during a court hearing in 1994 of striking her and sexually assaulting her 19-year-old niece, according to court records.
Do all these allegations mean Pamon was on the take and threw the game? No. But they do raise questions about the Big 10's diligence and judgment. The week before Pamon and the crew were allegedly reprimanded for the way the called a game in the prior weeks for calling too many penalties. In this game, it's clear they were sending a message by calling only 3 penalties for the game, ignoring blatant offenses from both teams and of course, blowing the fumble call. I don't buy into the conspiracy theory personally, but I do think the crew had something on their minds – that was to "show the League office" something by making a point of not calling penalties.

One thing is sure, the Big 10 had better sort this out for next season…and, they're lucky West Virginia and Missouri spit the bit in the last weekend of the season or these blunders would have cost the league a chance at the championship.
Tweet