Sky Reflected in Solar Panel Installation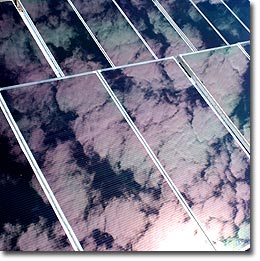 Generally, other than solar thermal, we have been less than impressed with the "businesses" in the solar (pv/thin film) segment. The products are expensive, the business models opportunistic, and the conversation revolves around which technology is best while other harvest methods leave the segment in the dust. It looks like a bubble, smells like a bubble, and ultimately will be proven to be a bubble.

As with every bubble, there are likely to be a few winners and many losers over the long term. Despite our distaste for the segment, it will over the long-term prosper we believe which means that identifying those likely winners to emerge from the down-cycle of the bubble when it pops is important. While at the Renewable Energy Finance Forum in New York last summer, we believed that we identified one of those companies, First Solar. Lately, the company has been on a tear: currently trading at 10x their January, 2007 IPO price, 3rd quarter revenue tripled Y/Y, and 3rd quarter earnings are up 10.7x Y/Y. The company's market capitalization now stands at $14.5B and the shares trade at a P/E ratio of 216 trailing twelve months. It's clear the market has discovered First Solar.

That's all great information, First Solar is clearly benefiting from stellar performance and also the meta market conditions, why is it a long-term winner? Mike Ahern, the CEO for First Solar won us over with his clarity of vision, simple plan, and aligning the fundamental metrics of execution with compensation. Notice, we said nothing about technology – it is adequate to achieve their aims and future breakthroughs can be applied to the business First Solar is building. The vision is clear: Profitably make commercial concerns energy independent using First Solar products. The market is clear, target commercial entities with access to solar resource where a payback is possible. The execution plan revolves around reducing the price of First Solar's products by increasing volume and refining the process with specific improvement targets over time. Hint: They've already reduced their cost of manufacturing 3x.

Shifting a bit to technology only to highlight a business process, First Solar uses 2'x4′ glass panels coated with a thin chemical film (cadmium-telluride or CdTe) to create their product. They've invented a continuous process that enables a single panel to be produced in a 2 hour window as it traverses the manufacturing process. They fully understand the throughput and are continuously monitoring and refining the manufacturing process. In order to produce more product, they start new lines and/or establish new facilities (like Germany and an upcoming Asian location.)

Back to business, Ahern stated that the company executives and staff have goals and are compensated on three key metrics: revenue growth rate, product cost reduction rate, and product volume. The goals and the company's execution against them to date coupled with pursuing a focused market strategy lead us to believe that First Solar is likely to be a winner in the long-term (though perhaps not at this market capitalization) and will be in a position to lead a consolidation in the solar space when the bubble bursts.

Disclosure: The author maintains a long position in First Solar shares.