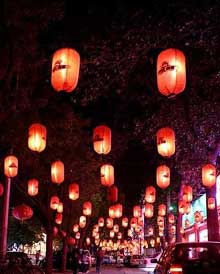 On Friday night, China Standard Time, I had one of the most enjoyable and memorable dinners ever at a restaurant called the Legend of the Flower (Hua Jia Yi Yuan) on Ghost Street (Gui Jie) in Beijing. The meal started as around eight people converged on the restaurant from our office in two cars during rush hour traffic, one group left 30 minutes later than the other and took a taxi the other group traveled in a private car. The taxi group arrived first!

Ghost Street itself is a long line of restaurant after restaurant. There are many places with paper lanterns hanging on over the street/sidewalk. Hua Jia is a seafood restaurant accessible via a long passageway from the street with the fare for the night living in tanks just before walking through the door into an old, traditional building. On the way in was a charcoal grill of sorts where piles of yams were cooking, we asked for one and ate it as an appetizer at a large round table with a turn-table located in the middle.

Since most of the members of the party were native Chinese, they had a spirited debate about which dishes would be most tasty and, I think, decided to try everything discussed. As stated, Hua Jia is a seafood restaurant, so seafood was the theme for the dinner with a little duck thrown in on the side.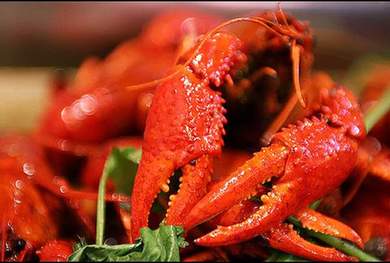 While I liked almost everything (not so much the onions and fish skin,) the hit of the dinner for me had to be the egg plant. I'm not a big egg plant eater, but this was prepared in the most delicious way to be very flavorful and hot/spicy. The "spicy little things" – or "bug thorn crickets" really a small shrimp fried in chilies and crayfish prepared similarly were certainly interesting and challenging and delicious treats (requiring gloves as the animals were disarticulated and eaten on your plate.)

The company was great, everyone was in a fine spirit and that was amplified by local Chinese beer and wine. Many stories were shared and I believe much fun was had by all. All of this would have been enough, but apparently Hua Jia hosts a show each Friday night. And how to describe it is a little difficult, perhaps a variety show would be the best tag from acrobats, to noodle artists who turn dough into pasta finer than angel hair before your eyes, to a mask dancer who was able to hide his mask with a fan and in a split second change the design on the mask dramatically, to a unicycle riding dish thrower/catcher (you'd really have to see it to believe it.)

In short, it was a great night and one I'll long remember. If I'm ever in Beijing again, one I'll certainly want to experience again. If you're ever there, I can't recommend Hua Jia highly enough.

Tweet