Wisconsin's TE Travis Beckum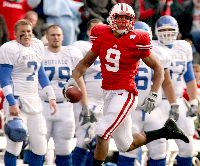 The real world intrudes on my blogging, thus the Wisconsin/Ohio State preview comes a little early…Saturday, at 9am PT the Wisconsin Badgers travel to Ohio Stadium to play the Ohio State Buckeyes. Vegas has installed Ohio State as favorites with a 15.5 point spread as of Tuesday, October 30. That line may move around a little in the next few days as Wisconsin RB P.J. Hill's status for the game becomes clear. As always, the good folks at Bucknuts will post a game data article telling you everything you ever wanted to know about the upcoming game and prior history.

Here are a couple of interesting things to know. Wisconsin is the only Big 10 team that Jim Tressel has posted a losing record against during his tenure at Ohio State, he's 1-3 with two home losses. Do you think that's relevant? Only if you're looking for motivation… Wisconsin was highly regarded at the beginning of the season sporting a Top 10 ranking and picked by most to finish first or second in the conference. Well, the boys from Madison are a good football team, but haven't quite played to that expectation level struggling against "inferior" competition at the beginning of the year (though they did manage to win…) and suffering back-to-back losses against Illinois and Penn State. The Illinois game was close, a 5 point loss. The Penn State loss was a blow out in Happy Valley with a 31 point margin.

Since the Buckeyes just went into Happy Valley and kicked the Nit's can by 20, does that mean we're going to see a 51 point victory Saturday? If you think that, I want what you're smoking…Again, we have what looks to be on paper the makings for a blow out. But this is why they play the game, to see what actually happens vs. what should happen based on analysis. My predictions have been so wrong the last couple of weeks, I'm not sure I even want to try this week other than to say the Buckeyes win this one because their offensive performance appears stronger than Wisconsin's defensive performance, because the Buckeye defensive performance appears stronger than the Badgers offensive performance. To top that off, it's a home game for the Bucks and Coach Tressel would like to get the record moving in the other direction against Wisconsin. So the intangibles favor the Buckeyes.

Somehow though, Wisconsin seems to play above their heads in games like these. Except at Happy Valley this year. Hmm. Last week I expected a close game and got a blow out. This week, if I expect a blow out, will we see a close game? Oh, to have such power of prognostication! I think both teams will know they've been in a game come Sunday morning, it will be physical. I think the Bucks control the game early on and win 31-13. As usual, post game we'll get an entry out there to see just how wrong this prediction was. Go BUCKS!
Tweet