Chart of Calpine's Six Month Stock Price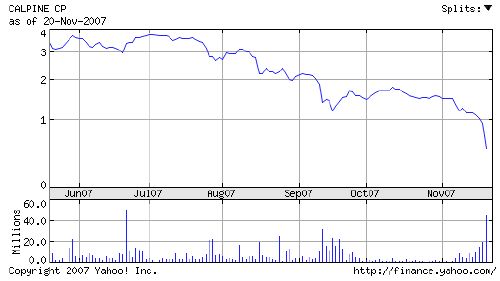 Back in June when
Calpine
unveiled their plan to emerge from bankruptcy, we weren't too positive. In fact,
we were downright puzzled by the market reaction
sending the stock over $3/share and market capitalization greater than $1.5B. The issue has been on a steady downswing since that time settling in around $1.20/share, around $600M in market cap. Yesterday the bottom dropped out when
the company announced a reduction in their enterprise value by $900M
. The stock's valuation now stands around $240M and closed yesterday at $0.495/share.
We wonder if it might not be a sensible thing for
Calpine
to spinoff its geothermal unit into a separate entity and let the natural gas portion of its portfolio sort itself out with the mother company. With the current market for renewable energy running very hot, this could create a pure play competitor to Ormat with 2x the generation capacity (Ormat is producing about $200M/year from ~375MW – Calpine has 800MW, that should produce around $425M in revenue per year…)
At current valuation and with the geothermal assets, we see
Calpine
as an interesting speculative buy. Caveat Emptor.
Disclosure: The author holds no position in Calpine stock. The author is considering a speculative, long-term position in the company.