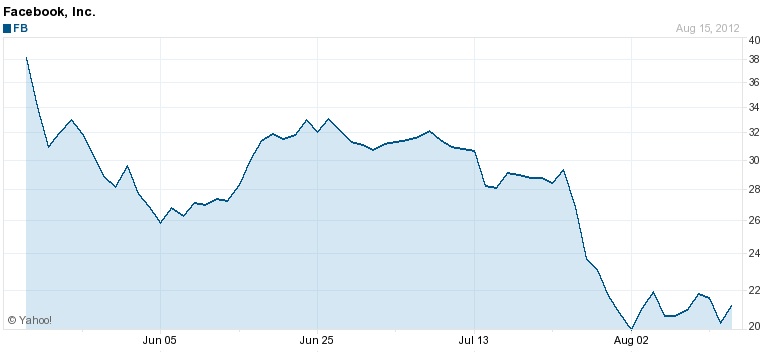 Mike, you're kidding right? You don't even like Facebook (we know, we read your blog and tweets) how could you have a post with such a title?

Investing is all about finding value and exploiting it. At a market cap of $100B you'd have to be crazy to buy stock in a $4B barely profitable company despite the many other assets it boasts. However, at $20B market cap, while still richly valued, there could be some upside in the investment.

$FB has $4.33B in sales trailing 12 months. It has net cash of nearly $10B on the balance sheet. It has Free Cash Flow of $1.7B ttm. As of market close August 16, 2012, the market cap is $42B and price per share is $19.87. If we back out the total cash / share of $4.37, we get intrinsic worth of $15.50 / share and that girls and boys, is interesting as an investment opportunity.

Recently we saw the first tranche of insiders being able to sell and it put downward pressure on the stock. I think we'll see a bounce up in the near-term until the next insider sell off. That could be the right time to take a position if you are so inclined. I'm now considering it and that's not something I ever expected to be able to say!

So, YMMV, but a mid-term win could be possible as $FB reaches the $16-18 / share price range. Caveat Emptor, as always.

Tweet