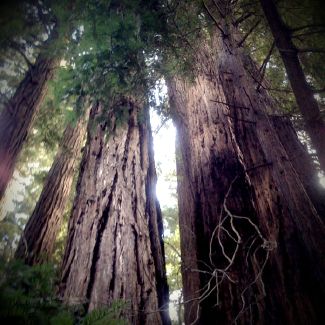 I've lived in California for close to 20 years now and one of the things I've forgotten is just how great Muir Woods National Monument (in Marin) is. We had some family visiting and the weekend before last we had a chance to visit and wander around the main trail in the woods.

The Coastal Redwoods are really magnificent and defy simple description or rendering with photos. These trees are nearly 100 meters (~330 feet) tall when mature and live thousands of years (provided humans don't cut them all down…)

The drive there is also beautiful winding along Highway 1 through Marin, up the side of Mt. Tamalpais. However, if anyone in your retinue is prone to car sickness, look out! After marveling at the trees for awhile, we headed north on Highway 1 to Point Reyes Station and had a delicious late lunch at the Station House Cafe.

Regardless of whether you're a visitor or resident, take a trip to check out Muir Woods, it's a fun day trip and will remind you of some of the benefits of living in or visiting the Bay Area.

Tweet