While we mostly focus on electricity generation from renewable resources with something of a focus on geothermal technologies, I thought it was time to take a look at the home market.

WFI, A US company, listed on the Toronto Stock Exchange, presents a really interesting eco* (ecological and economic) opportunity: it has all the makings of a great investment and its products provide environmental benefit. In a nutshell, WFI uses geothermal heat exchange to heat or cool your home or office. WFI has two businesses, a product business consisting of the geothermal pumps (WaterFurnance) and an installation service that will install the heat exchange loops (LoopMaster.)

The DOE estimates that for each home installation of a geothermal heat pump it equates to taking two cars off the road for a year. These pumps have around 2.5 to 4 coefficient of performance, for every unit of energy that goes into the system 2.5 to 4 units of heat/cooling come out. The way these systems work is pretty simple, see the diagram below: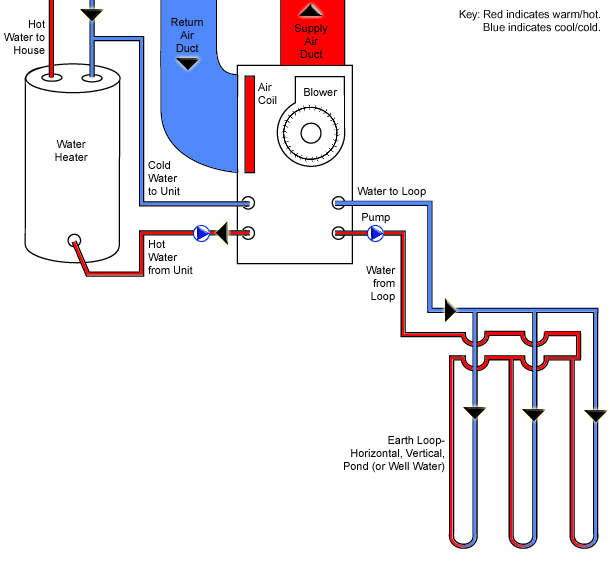 On the economic front, WFI earned $8.3M on sales of $91M and paid a dividend of $0.50/share, up from $6M, $72M, and $0.44/share last year. The company has been around for 25 years and is investing for expansion as green becomes the new red, white, and blue and fossil fuel prices continue to rise. WFI is trading around $22.80(C)/share currently.

This is one of those times that a company with a good product, in an expanding market, with a strong balance sheet, is poised to take off. Not only can investors benefit, but the customers, and the environment can benefit too. As always, do your own research before investing in any company, but I believe WFI presents an interesting opportunity below $21(C)/share.

Disclosure: The author holds no shares in WFI but is strongly considering an investment at the right price.