Finavera's Aquabuoy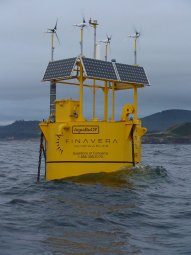 Just hours before its scheduled removal, AquaBuOY 2.0 has sunk.

"For the purpose of the project, it was highly successful." Kevin Bannister, VP for Business Development, Finavera Renewables

Finavera Renewable's 72-foot high wave energy test buoy went down in about 115 feet of water on Oct. 27, just one day before it was to be removed from its location in the waters off of Lincoln County, a part of the Central Oregon Coast. The device had been deployed on September 6.

While company officials say they don't know exactly why it sunk, Finavera Renewable's spokesman Mike Clark said, "It seems to have something to do with the float section of the device." He said the buoy began taking on water and the bilge pump "couldn't keep up with the amount of water it was taking on." The pump failed and the device went down. "We're pretty sure it didn't have anything to do with the power-generating technology," Clark said.