Geothermal developer Raser Technologies reported Q1 earnings yesterday with mixed results. If one were to judge the company purely by financial measures one would conclude this is a penny stock headed toward zero with accelerating losses, very little revenue, and negative shareholder equity. However, the market seems to be taking a much more optimistic view, assigning a market cap in excess of $500M, based on the non-financial aspects of the report which principally involves the development of 8 geothermal electricity projects in Utah and Oregon. Here is a snapshot of the consolidated balance sheet and operations statement: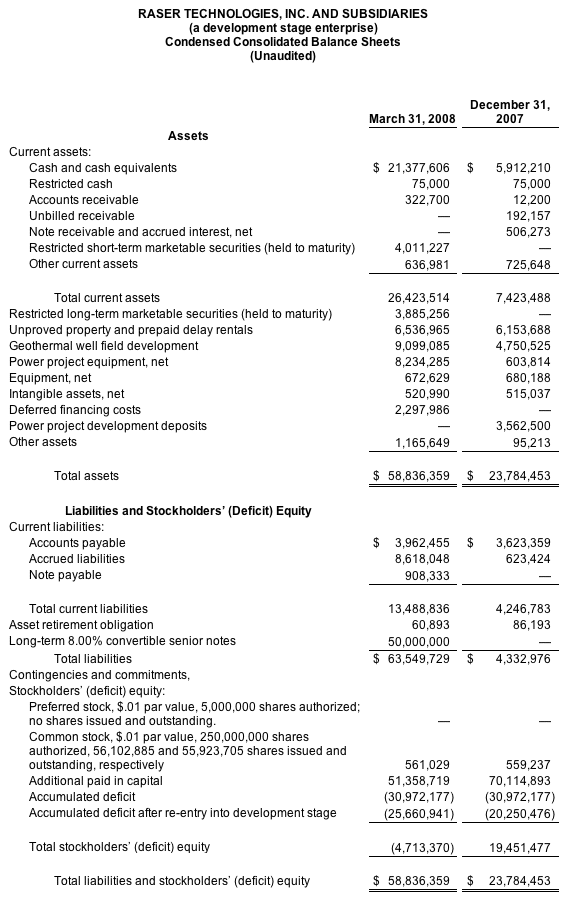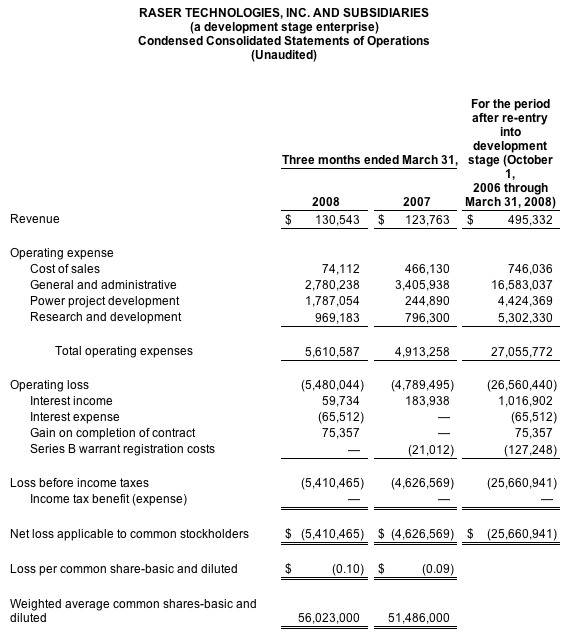 With the bad news out of the way, the company has made progress toward developing its geothermal project portfolio with approximately 80MWe underway in 8 projects scattered throughout Utah, Nevada, and Oregon. Management expects that all 8 projects will be in commercial operation by the end of Q1 2009. Power purchase agreements totaling 22MW have been completed with the City of Anaheim and more agreements are in-process at this time. Ground was broken on the first plant in Utah and the company managed to secure some star power in the form of Senator Orrin Hatch for the ceremony. Project financing for 155MWe has been secured and power conversion units accounting for 45MWe have been ordered with about 8MWe now in possession of the company.
Possible snags in getting to commercial operation for these plants include: permitting, environmental impact reports, transmission, and most importantly, water availability and rights. The company has not spoken publicly about any of these issues and with 8 concurrent projects underway, there is substantial delay and completion risk yet to be mitigated. While it's clear the company is moving full speed ahead in developing its projects, we can't help but note that management claimed the first plant would be in operation in Q1 2008 in the earnings report one year ago. We said the company's plans were overly aggressive then, we maintain that stance even as we're impressed by the progress that has happened to date.
There is still substantial risk in this stock relative to the bet on positive cash flow in time to meet the committed financial obligations.
Links:
Raser Technologies