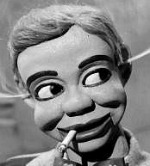 After a twitter exchange with @ResumeStrategy last month, I was suggested to be a guest on the Recruiting Animal show on Blog Talk Radio. Had a great chat with @Animal this morning in advance of the show and have to say, I'm looking forward to it.

Should be interesting to get the recruiting view on re.vu and to discuss hiring, careers, etc. My sense is that it will be a lively exchange and who knows, maybe there will be something to learn too.

Check out Recruiting Animal's website here and join us for the show Weds March 25th at 9am Pacific. The dial in details are there on the site in the right hand column.

Tweet