Well, it's hard to believe 2008 is gone already, it feels like we hardly had a chance to know you…on the other hand, when I look at the growth for this blog and the content, for 2008 and over time you like to read, I can see there has been a lot of proverbial water under the bridge.

As of this post, there are 1,255 posts in 14 categories with 499 different keywords and you've contributed 2,226 legitimate comments to this venue. Thanks, that's a great participation rate and a big increase over last year's comment rate. On the spam side of the comment house, we have now rejected over 160,000 spam comments since the beginning, that's overwhelming, but shows a slowing trend vs. last year and for that, I'm very grateful.
Musings from the Coast Page View Growth 2006-2008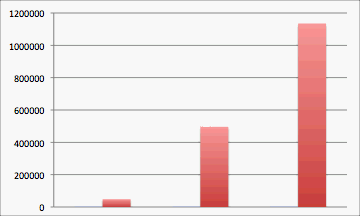 The first full year of operation, 2006, was a pretty modest affair relative to our readership now. In terms of overall visitors, we had around 17,000 in 2006 viewing nearly 50,000 pages. In 2007, we had great growth of the venue with nearly 180,000 visitors viewing nearly 500,000 pages. This year (excepting today's statistics) we've hosted over 560,000 visitors viewing over 1,100,000 pages! That being said, I've gotten a few questions about my decision to stop advertising and I can say, even with the growth seen in this platform, we're still 100x off what we'd need to be viable as a commercial, on-going concern from a traffic perspective and 300x off what we'd need to be a very successful commercial enterprise. So for now, I'm content to keep writing and hopefully you'll keep reading (and/or viewing which will make sense as the top content is enumerated below…)

What did you like best of my 2008 content? Here's the list of top entries as viewed by you…
What about all-time popular content? Well, again, here's the list as viewed by you….(duplicates from 2008 omitted.)

What about my favorite content? Here are a few entries I like the best (even though you didn't like them as much…)

This is my favorite passage from 2008 from the hundreds of entries (from I Chose the Red Pill above.)
The red pill holds only stark truth. In the end, we're meat. We're here for a short time. It's what we do in this life that matters and how we behave here and now that we can influence and control. The sum of those behaviors form our legacy and can affect generations to come in a very real way. The reward of the red pill is being present, being accountable for one's own actions, and doing the right thing as a way of life – not because some mystical being will send you to everlasting torture if you choose poorly. The blue pill is comfortable with mystical rewards; the red pill requires work and holds no promise of rewards. In the end, that will likely be the reason most people won't choose it. And that is a tragic outcome for us all.
Well, that was fun. I hope next year is too. Happy New Year to all and thank you for visiting and reading Musings from the Coast. Please come back often and bring your friends! And also, your comments are valued, so please do feel free to submit them.

Tweet