OK, so it's a day late. Shoot me…

Purdue's QB Curtis Painter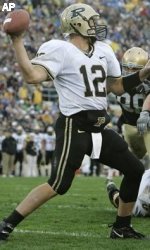 Saturday, October 6th, the Ohio State Buckeyes will travel to glorious West Lafayette, Indiana to battle the Purdue Boilermakers who hold a record of 5-0. Since the Buckeyes also have a record of 5-0, someone will be leaving Ross-Ade Stadium with the first loss of the season. Game data is available as always from your Buckeye information source, Bucknuts. This is a night, away game for the Buckeyes, kickoff is 5pm PT and the Buckeyes are installed as 7 point favorites.

Through the first five games of the season, Purdue has proven to have a potent offense producing 45 points and 495 yards on average. The defense however, is a different story. Through the first five games it has surrendered an average of 20 points and 384 yards per game. Since both Purdue and Ohio State have played Minnesota this year just a week apart on the road, comparisons of performance are in order. In Purdue's case, the margin of victory was 45-31 with the offense putting up 504 yards and the defense surrendering 469 yards; in short, a shootout. In Ohio State's case, the margin of victory was 30-7 with the offense putting up 459 yards and the defense surrendering 277 yards; in short, a controlled victory.

Make no mistake about it, the keys to this game are defensive performances and specifically defensive performances along the line. Whichever team can stop the run and put consistent pressure on the opposing quarterback during the game will emerge with the win. Purdue represents the most complete and competent offensive unit the Buckeye defense has seen this year. Painter is putting up big numbers, he's only been sacked 4 times all season, and the running game with Kory Sheets is effective. I think Purdue will put some points on the board, and Purdue always plays the Buckeyes tough.

The mismatch seems to be Purdue's porous defense vs. Ohio State's efficient offense. The numbers would seem to indicate that barring bizarre turnovers, penalties, and other mental errors, the Bucks stand a good chance of meeting their average scoring plateau this game. So it really becomes a question of Ohio State's defense vs. Purdue's offense – will the Boilermakers score their average of 45? Will the Buckeyes hold Purdue to their average of 7? It's not likely that either of those extremes will be seen. I'd put it somewhere in the middle, call it 20-27 points.

Wait, I've got it, Ohio State wins 35-24 in a game that is close through 3 quarters. As always, we'll post an after game report to see just how wrong this preview was. Go Bucks!
Tweet