Youngstown State's Josh Tanner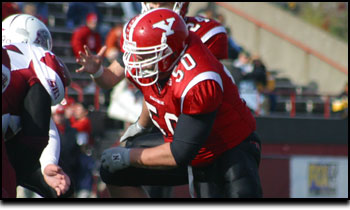 If you want all the data, starting lineups, stats, returning starters, etc.
I recommend reading this entry from Bucknuts
. For the sake of not repeating the excellent work there, I'll just provide my opinion of what to expect on Saturday.
Everything I've read about this game leads me to conclude that everyone thinks Ohio State will win this game in a cake walk. I say "not so fast my friend…" Youngstown State is in a lower division of college football, the Football Championship Section (FCS or, to those of us who haven't adopted the new terminology, Division I-AA.) But, YSU is coming off consecutive conference championships and a deep run into the playoffs last year. The Penguins are coached by Jon Heacock, the successor to current Buckeye head coach Jim Tressel and younger brother of OSU's Defensive Coordinator Jim Heacock.
The Bucks are going to face a disciplined, jacked up team ready to rumble and with nothing to lose. You might remember some 8 months ago the Bucks took the field against a team that everyone presumed they would beat too – that didn't turn out so well. Now, do I think the Buckeyes have more talent than the Penguins? Yes. Do I think that the Bucks will look sharp in the opener? Nope. That being said, I see a much closer and tougher game than many are predicting.
The main difference in the Division I schools like OSU and I-AA like YSU is depth. Over the course of the game, this will be the difference. How it will go, I believe that YSU will score 4 times, likely 3 field goals and one touchdown. That yields a score of 16 for the Penguins assuming they kick the PAT rather than attempt a 2pt conversion. So it could be 15 or 17 points with that decision. I expect the first half to be pretty darned close and will cause Buckeye fans a little heartburn.
On the Buckeye front, I see 7 scores, I'll say 3 field goals and 4 touchdowns. One of those touchdowns will be defense or special teams related. Why do I think this? It's going to take some time for the offense to get synchronized, the defense will play well, but not perfectly as the defensive line learns on the job. Let's call the Buckeye point total 37, but I expect most of that scoring to occur in the second half. Now, I would love to be wrong and have both the team show up sharp and ready to go, but I just don't believe they'll be ready (not for lack of preparation or effort – it's just experience.)
Given that the Bucks are installed as 31 point favorites right now, I'd take the underdog and expect a 37-16 Buckeye win that feels closer than the final score might indicate. We'll check back after the game to see how wrong this prediction was!
Tweet